20+ Years in the Industry

20 million Public Liability Insurance

Risk Assessed Machines with Service History

Family Owned & Operated

Experienced & Fully Insured Staff

SWMS & Prestarts
Over time asphalt roads can develop cracks or holes due to heavy daily use and constant exposure to the elements. But thanks to the team here at Ozzy Asphalt, you can make those blemishes and issues a thing of the past.
We have more than 15 years of asphalting experience behind us, and use our skills and knowledge to tackle even the largest or most complex jobs and deliver an unbeatable solution.
That means customers can always be confident they will be left with noticeable and lasting results, as well as value for money on all services.
Our road patching services include filling potholes, repairing cracks before they become major safety concerns, and installing and maintaining speed bumps.
For more information on available and in-demand asphalt road patching solutions, simply get in touch with our friendly team today.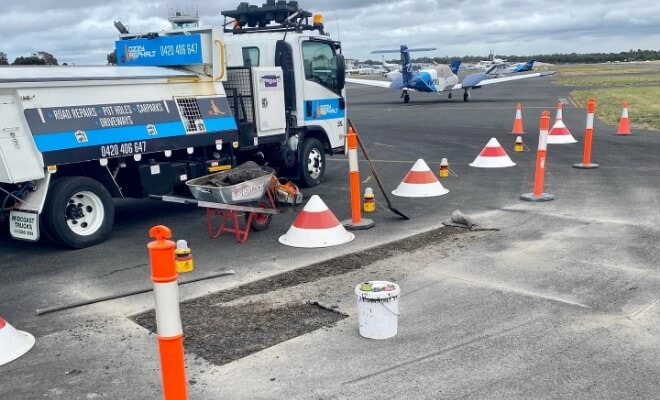 ---
Melbourne's Go-To Name for all Asphalt Road Patching Solutions
Construction surfacing and repairs of small to medium business for both domestic and commercial customers.
When it comes to straightforward and reliable asphalt road patching services and solutions, customers across Melbourne know that Ozzy Asphalting is the name to trust.
We offer a wide range of comprehensive and cost-effective services to our customers, and provide a 24-hour turnaround time frame on all patching solutions.
Our qualified and professional team can deliver services suited to roads located in both residential and commercial areas, as well as all asphalt surfaces in educational facilities.
In addition to our expert patching services for asphalt roads, the Ozzy Asphalt team also provides work suited to asphalt pathways, cross overs, and car parks, as well as detailed landscaping and paving concepts.
Call 0420 406 647 to speak with a member of the Ozzy Asphalt team and to learn more about how our services can improve damaged roads in your area.
Roads

Patchwork and potholes, footpath reinstatements, traffic management and crack sealing

Commercial Asphalting

Shopping centres, Racecourses, carparks, airports, industrial hubs & factories, footpaths and sporting facilities

Residential

Plumbing, excavation and earthworks, driveways

Educational Facilities

Primary and secondary schools, universities, kindergartens and child care centres