20+ Years in the Industry

20 million Public Liability Insurance

Risk Assessed Machines with Service History

Family Owned & Operated

Experienced & Fully Insured Staff

SWMS & Prestarts
Asphalt Driveways Melbourne
When it comes to finding tried and tested services regarding asphalt driveways, Melbourne residents know to get in touch with the skilled and experienced team here at Ozzy Asphalt.
No matter how big or small the project might be, our team will be there in no time to deliver a comprehensive and cost-effective service that will leave our customers with lasting results. We can lay asphalt driveways residential homes, commercial properties and educational facilities, our asphalt driveways, tailoring all services to suit the demands of the job at hand.
Servicing areas all over Melbourne, Mornington Peninsula and regional Victoria, our highly skilled team with over 15 years of experience will be able to design and install the most ideal asphalt solutions that works within our clients' preferences and specifications.From plain to decorative designs, our high quality asphalt driveways here at Ozzy Asphalt can be designed to suit all types of spaces.
Looking for a locally based expert who can help cover all necessary asphalt driveway repair works and maintenance services? At Ozzy Asphalt, our team can complete a number of different services on your asphalt driveway, ensuring they continue to stay smooth, clean and safe. Our quick and efficient team also work within a guaranteed 24 hour turn around time, which will ensure your newly repaired asphalt driveway is ready to use as soon as possible.
For more information on the lasting benefits of our asphalt driveways, Melbourne residents and business owners give us a call on 0420 406 647 and speak to a member of our friendly team today. To receive a free quote from our team, please send us an enquiry online now.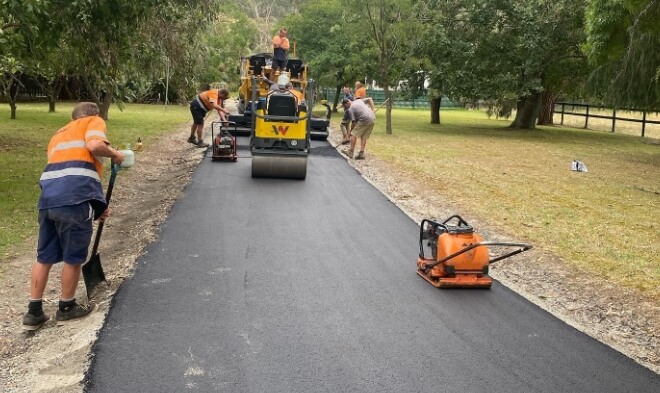 ---
Get a Quote For Your Project
Construction surfacing and repairs of small to medium business for both domestic and commercial customers.
Roads

Patchwork and potholes, footpath reinstatements, traffic management and crack sealing

Commercial Asphalting

Shopping centres, Racecourses, carparks, airports, industrial hubs & factories, footpaths and sporting facilities

Residential

Plumbing, excavation and earthworks, driveways

Educational Facilities

Primary and secondary schools, universities, kindergartens and child care centres